EX-54RZ2
HDMI 2.0 Extender over Single Coax with Bi-directional IR
4K@60 4:4:4-up to 110m
Support PCM Stereo 32/44.1/48kHz
Coaxial Cable reach up to 110m
Bi-directional IR Extension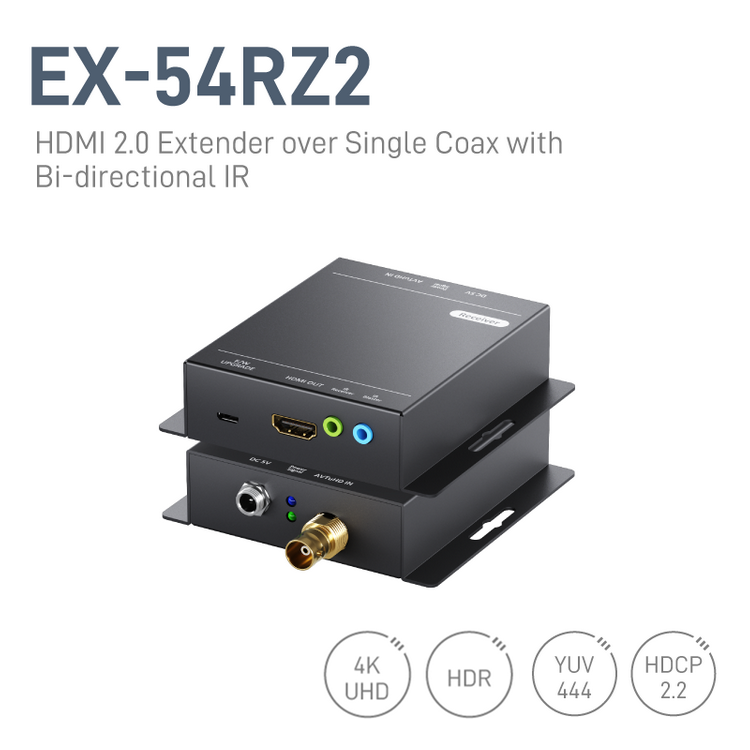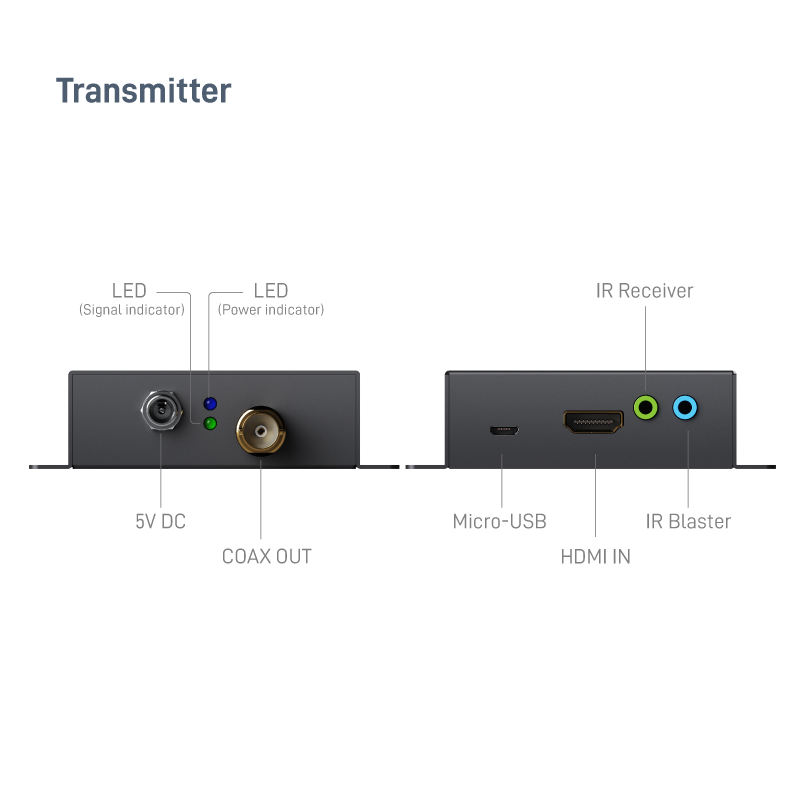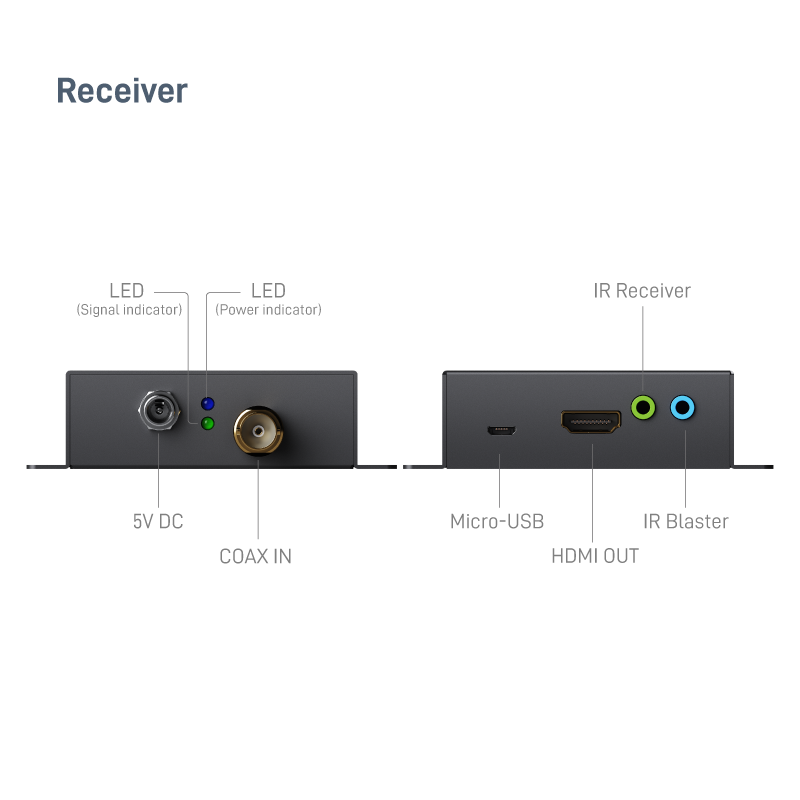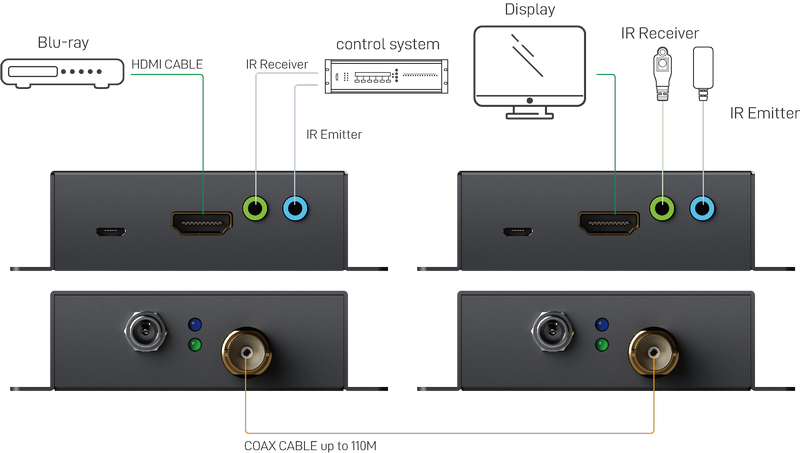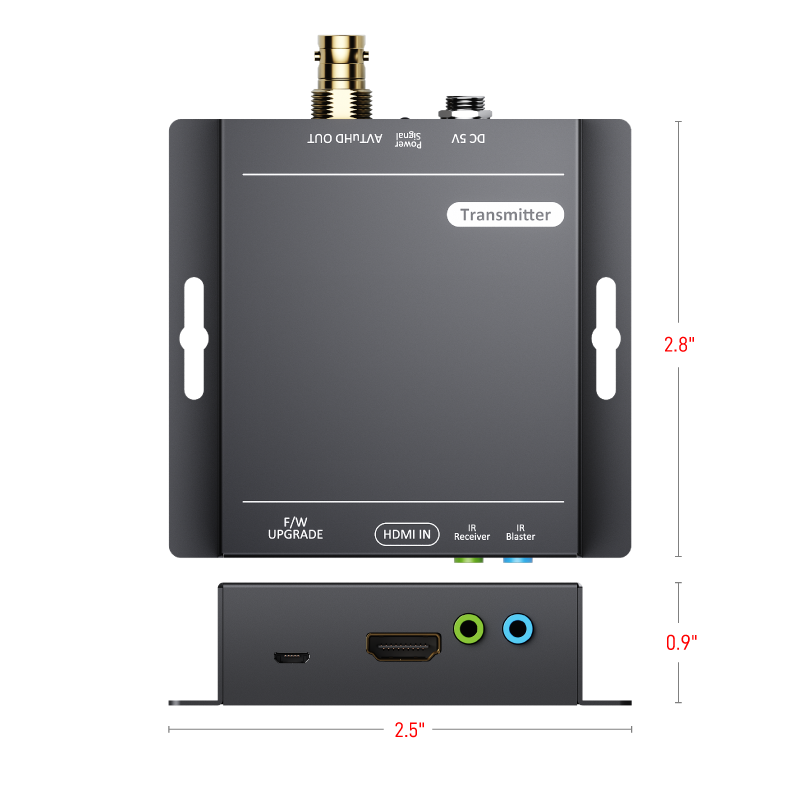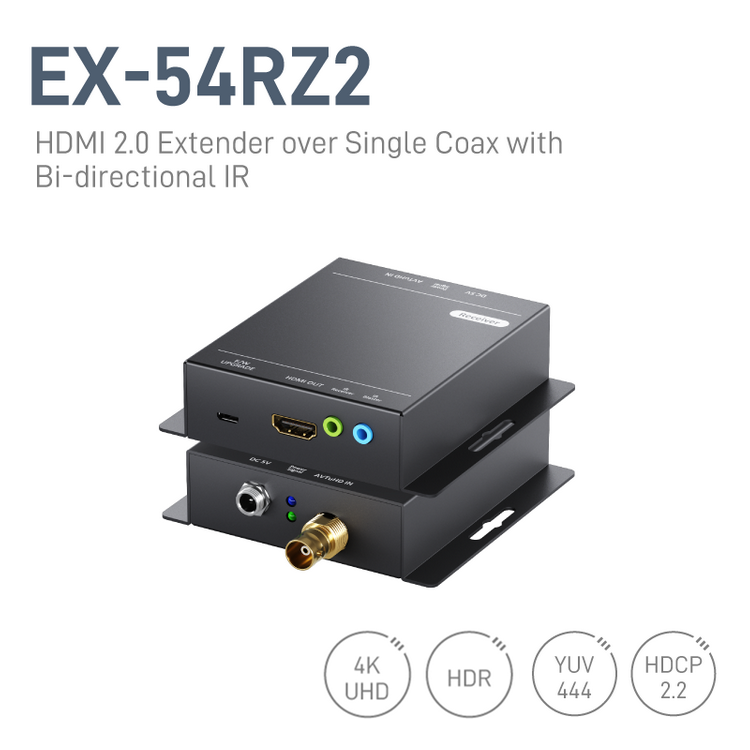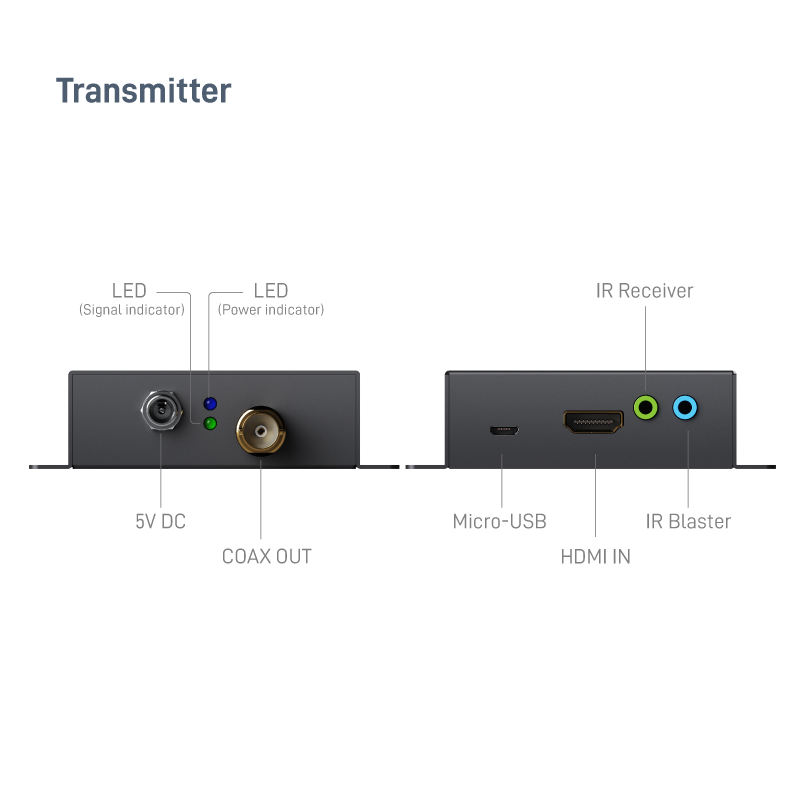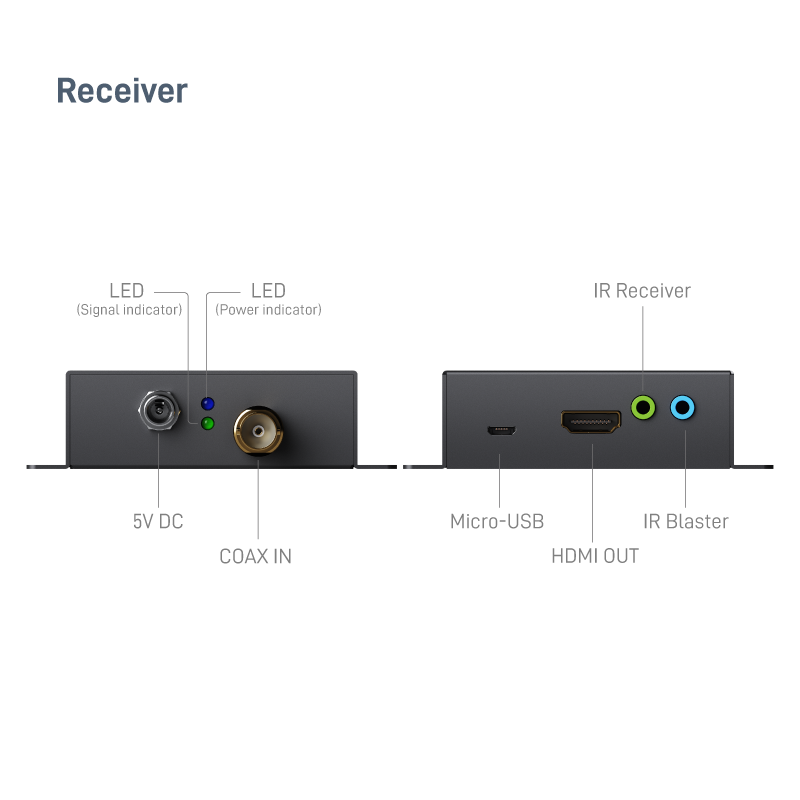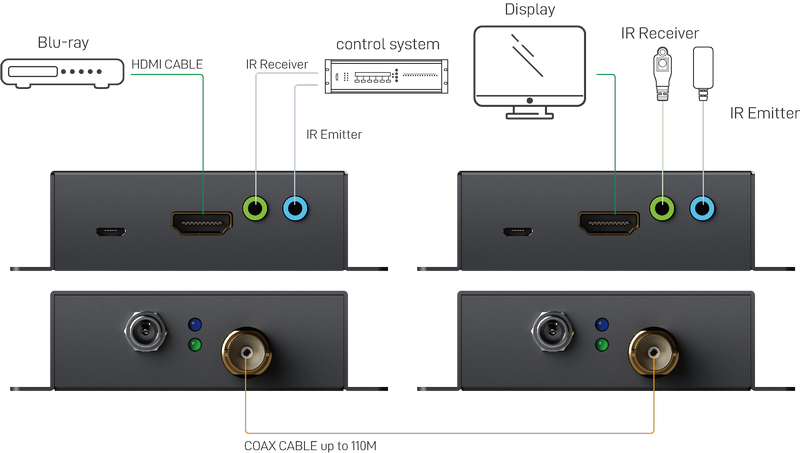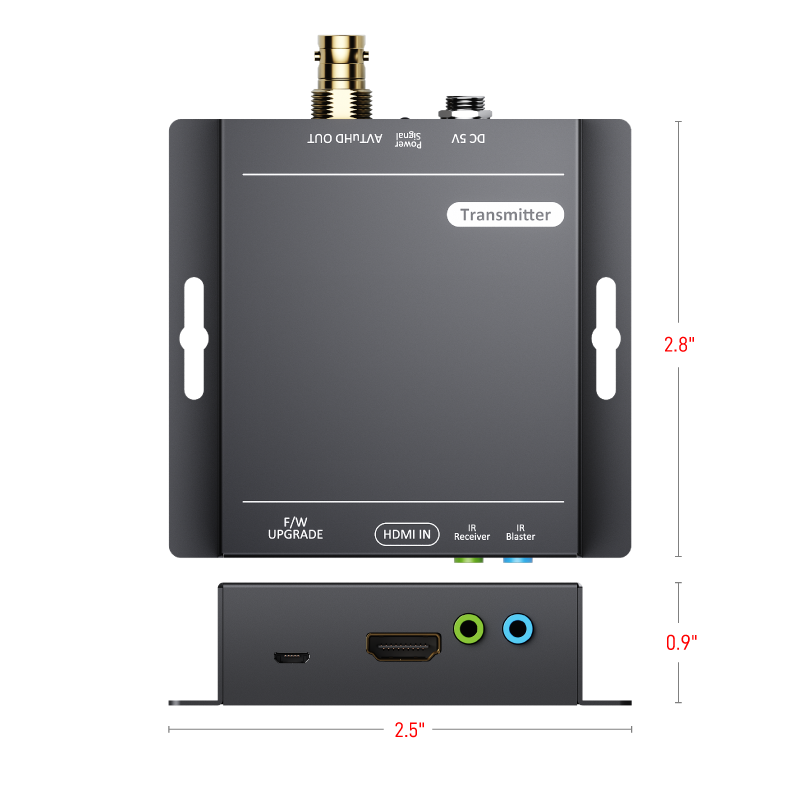 Overview
The EX-54RZ2 HDMI 2.0 Extender over Single Coax with Bi-directional IR boosts up your HDMI transmission range up to 110m (363ft) in Ultra HD 4K2K format through single coaxial cable. EX-54RZ2 is easy to install and works perfectly with Belden 1694A coaxial cables. Other coaxial cables can also work with EX-54RZ2 and the transmission distance depends upon the quality and bandwidth of coaxial cables. In addition, EX-54RZ2 is also equipped with bi-directional IR pass-through path. This bonus feature allows users to rely on the same coax cable to have IR control on IR equipped devices, such as TV and BD players, and EX-54RZ2 makes IR control possible through only single coax cable along with high quality HDMI A/V signals.
The EX-54RZ2 includes two units: transmitting (EX-54RZ2[TX]) and receiving (EX-54RZ2[RX]) units. The transmitting unit is used to capture the HDMI and HDCP input signals and carry the signals through only coaxial cable. The receiving unit is responsible for auto equalizing the transmitted HDMI multimedia data. The transmission range between the sending and receiving units can be up to 110m (363ft) under Ultra HD (4K2K) with 2 channel audio.


SPECIFICATIONS
Technical
Max. Distance

Up to 4Kp60@40m (Cat 5e/6) -@70m (Cat 6a)│1080p60@60m
Max. Resolution

"4K2K@60 (4:4:4—8bits)
4K2K@60 (4:2:0—10bits)"
Audio Support

Dolby TrueHD, DTS-HD Master Audio, Dolby Digital Plus, LPCM 7.1 Audio
ESD protection

8 KV—Contact Discharge
15KV—Air Discharge
Mechanical
Casing Style

Wall Mountable
Power Connection

Interlocking Barrel
Power Consumption

6 watts (Max.)
Operating Humidity

20-90% RH (no condensation)
Operation temperature

0~40°C (32~104°F)
Product Weight

⎖ TX;250g (0.5 lbs)
⎖ RX;250g (0.5 lbs)
Package Weight

622g (1.3 lbs)
Certifications

CE, FCC, RoHS