EX-36KRM
12G/6G/3G/HD/SD-SDI Fiber Extender with Bi-Directional RS232
Enable transmission of digital video signal over optical fiber*
〉up to 10 km (6.25 miles)
Standard SFP-type fiber optic connector
Supports following protocols:
〉SMPTE 259M (270Mbps)
〉SMPTE 292M / HDTV (1.485Gbps and 1.485/1.001Gbps)
〉SMPTE 424M / HDTV (2.97Gbps and 2.97/1.001Gbps)
〉SMPTE 2082-1 / HDTV (5.94Gbps and 5.94/1.001Gbps)
〉SMPTE 2082-2 / HDTV (11.88Gbps and 11.88/1.001Gbps)
〉DVB ASI (270Mbps)
Immune to RP-198 pathological patterns
Automatic re-clocking
Supports one SDI loop through
12G/6G/3G/HD/SDI Input signal detection LED
Full Duplex RS-232 control up to 921,600 bps through connector
 


。。。。。。。。。。。。。。。NOTE。。。。。。。。。。。。。。。


1. RP-198 is the Pathological Patterns
2. Fiber type: M = multi-mode/S = single-mode
3. Maximum transmission length is depended upon the optics module.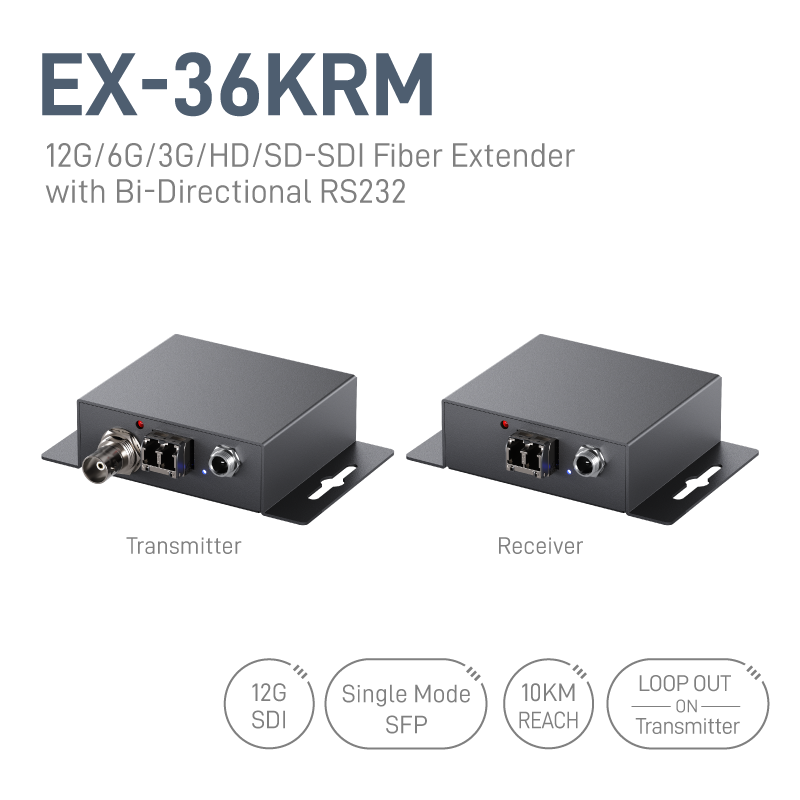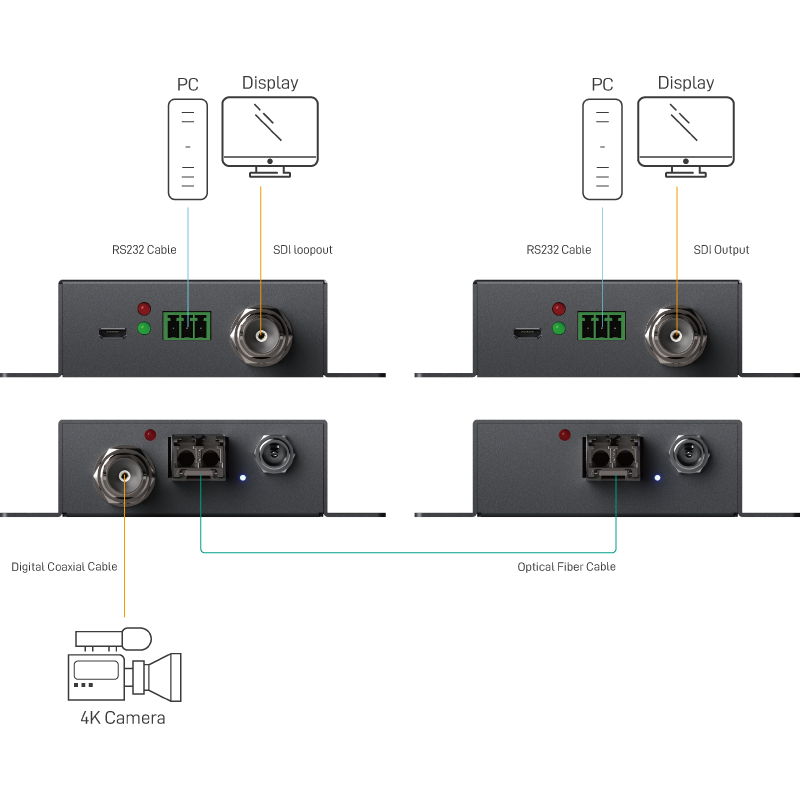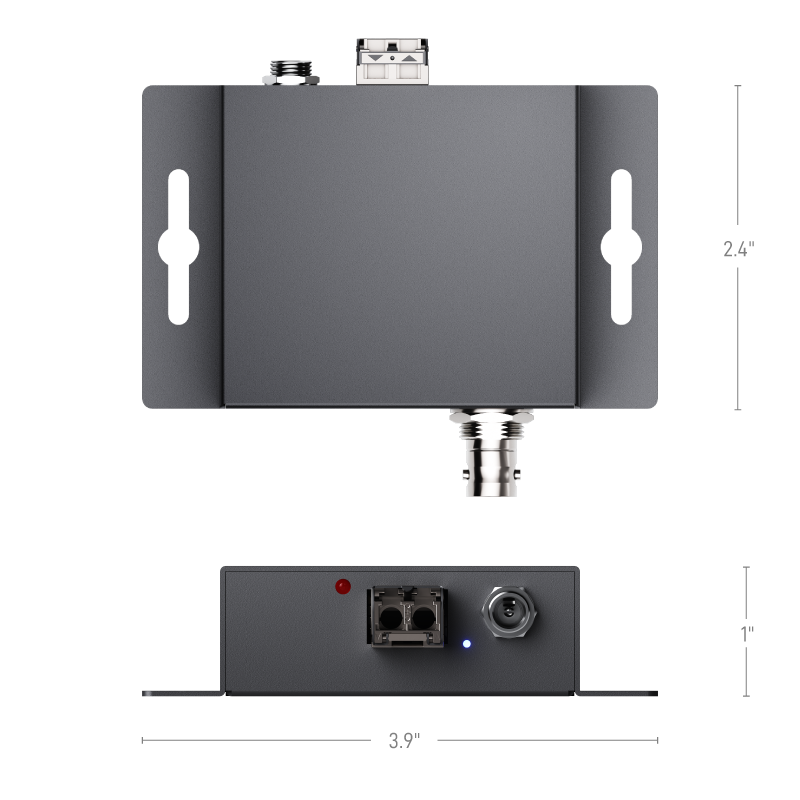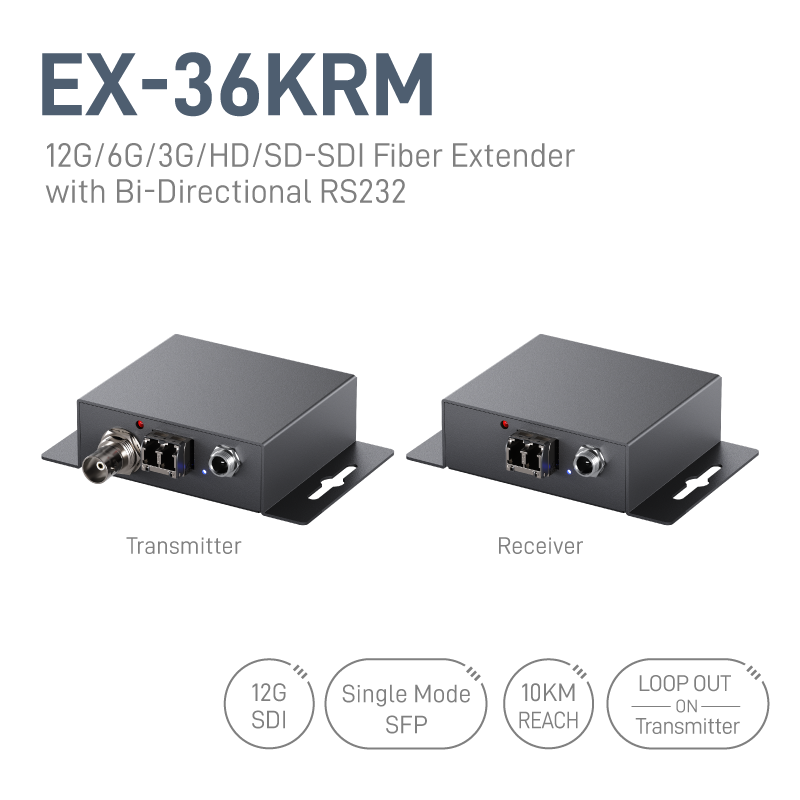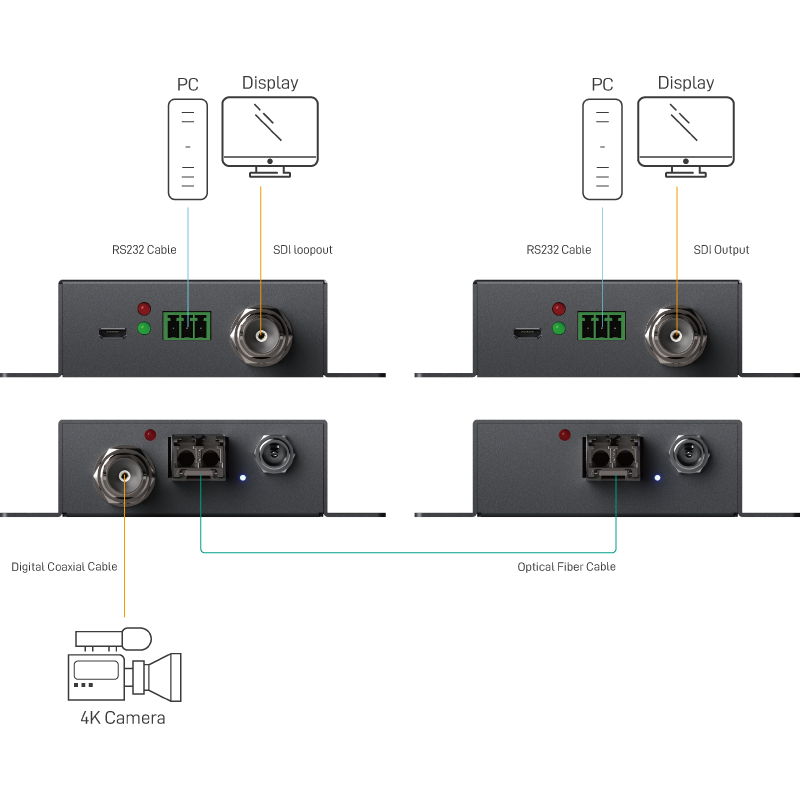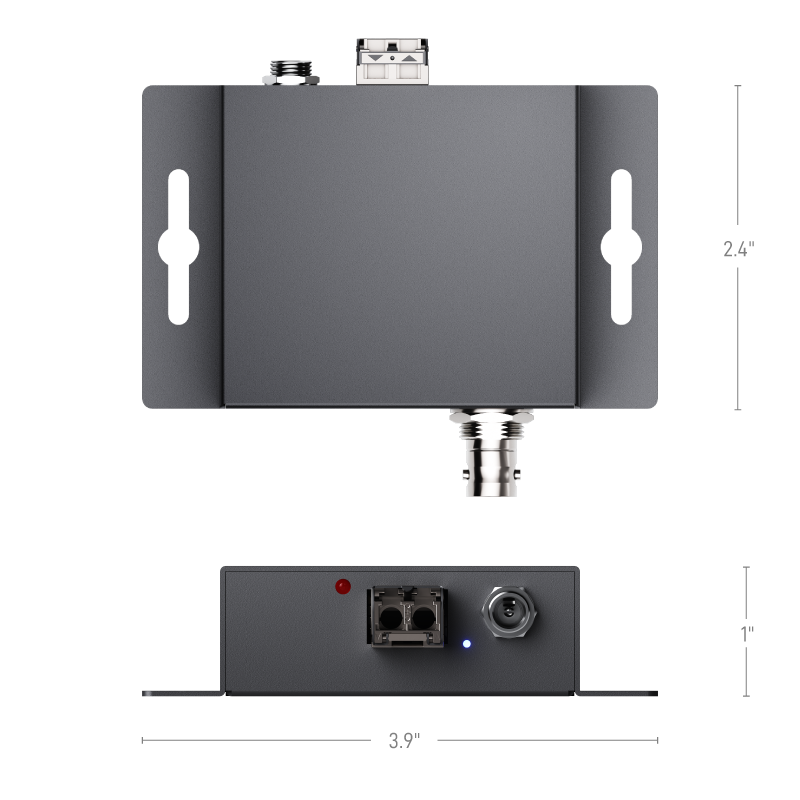 Overview
The EX-36KRM 12G/6G/3G/HD/SD-SDI Fiber Extender with Bi-Directional RS232 is an ideal and economic solution designed for transmission of multi-rate SDI video, with embedded audio and metadata over a single-mode fiber optic cable. The transmitter module receives one 12G/6G/3G/HD/SDI electrical input, perfectly converts SMPTE 292M, SMPTE 259M, SMPTE 424M, SMPTE 2082 or DVB-ASI electrical SDI signal to single-mode optic SDI signals. The receiver module receives optical signal from input SFP connector, and then perfectly converts it to electrical SDI signal. EX-36KRM is immune to pathological pattern (SMPTE RP-198) without introducing any flickers, and this feature further guarantees the transmission quality over optical fibers.

Both transmitter and receiver provide equalizing and re-clocking at input unit in order to re-construct the signal for consistent quality. The EX-36KRM is perfect for today's broadcast applications, including video production, video editing, studio to studio and studio to CATV head end. EX-36KRM is also equipped with bi-directional RS-232 serial port control. This bonus features allow users to boost RS-232 control distance up to 10km (32800ft) through Optical fiber cable with SDI signals. In addition, since transmission of content is inherently secure and immune to outside interference, fiber applications are favored in government, military, and medical environments.
SPECIFICATIONS
Technical
Supported Protocols

SMPTE 259M (270Mbps), DVB ASI (270Mbps)
SMPTE 292M / HDTV (1.485Gbps and 1.485/1.001Gbps)
SMPTE 424M / HDTV (2.97Gbps and 2.97/1.001Gbps)
SMPTE 2081 / HDTV (5.94Gbps and 5.94/1.001Gbps)
SMPTE 2082 / HDTV (11.88Gbps and 11.88/1.001Gbps)

Video Bandwidth

[11.88Gpbs & 11.88/1.001Gbps]
SDI Signal Type

SMPTE 2081, SMPTE 2082, SMPTE-424M, SMPTE-292M, SMPTE-259M, DVB-ASI
Fiber Extension

Up to 10km (>6.2 miles) for 3G–SDI
Mechanical
Casing Style

Wall Mountable
Power Connection

Interlocking Barrel
Power Consumption

◎ TX:5 watts (Max.)
◎ RX:5 watts (Max.)
Operating Humidity

20-90% RH (no condensation)
Operation temperature

0~40°C (32~104°F)
Product Weight

◎ TX:171g
◎ RX:171g
Certifications

CE, FCC, RoHS